No batteries and no wires
The MOÏZ start-up offers 100% autonomous sensors! Free from batteries and wires, our autonomous modules harvest the thermal energy lost in your environment by generating the electrical energy necessary for their operation.
As a result of several years of experience in thermal energy harvesting in industrial environments, we are now able to offer our customers an efficient, reliable and versatile solution at a controlled cost. We have developed with AXANDUS a completely autonomous measurement module that can cover 80% of our users' needs. This module integrates temperature sensors but it can easily be adapted to use other types of sensors (pressure, CO2, infrared sensor...)
Your specific needs cannot be covered by our module ?
No problem, we remain attentive to the problems of all our customers concerning autonomy. We can develop or co-develop your next custom autonomous solution !
Harvestree autonomous mesurement module
Our stand-alone measurement module integrates temperature sensors, an energy storage solution and a radio to transmit the measured temperatures.
- Robust, waterproof and including resined electronics, this sensor is designed to operate for 10 years in a demanding industrial environment.
- Its fixing system adapts very easily to most surfaces: pipes of different diameters, flat surfaces...
- The temperature measurements are made with a PT1000 probe located in the base of the sensor. It is reliable, sensitive and precise.
- It can transmit the measured temperatures in LPWAN using LoRa, LoRaWAN protocols (SF7 to SF12).
Its optimized design allows it to reach a complete autonomy from a low temperature gradient. The environmental conditions of the module (temperature, ventilation) are determining in its operation. You want to know if your application is possible?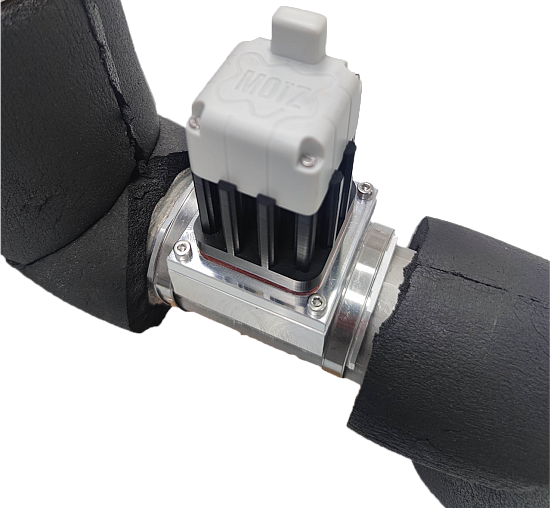 Your Harvestree module
Our standalone measurement module has been designed to be versatile and easily customizable to meet the needs of a wide range of users. From our Harvestree module, you can create your own Harvestree module by adding our different options. This versatility allows us to offer you an autonomous solution suited to your needs, all at a controlled cost.
The Harvestree module can power various low consumption sensors that can be remote :
Temperature

Pressure

Infrared

Vibrations

...
The mounting system is easily adaptable to many environments :
Magnetic mounting

Mounting by screwing

Custom flange
Data transmission by various communication protocols :
LoRa / LoRaWAN

Bluetooth Low Energy

...
Operation in extreme temperatures :
High temperature up to 350°C

Negative temperature down to -80°C
Co-development
Working together to provide energy autonomy to your system.
By combining our know-how, we can develop together autonomous connected devices, integrating our autonomous measurement system.
From the specifications defined upstream, our team designs and develops a prototype, offering you a unique autonomous device !